At JJISCO we understand the selection of an engineering material is not simply a matter concerning cost and properties. We are ready to assist you in determining the best material for your application, starting with some basic questions:
The properties of hard materials silicon carbide, tungsten carbide, aluminum oxide and zirconium oxide — are so different from other engineering materials and from each other that an informed understanding of these properties is necessary in order to maximize their use. Each of the materials is extremely hard, falling just below diamond on the hardness scale. Corrosion resistance, transverse rupture strength, fracture toughness and weight vary greatly.
Our professional sales engineers possess extensive knowledge of materials that have solved extreme applications of corrosion, erosion, temperature, and fatigue. The goal of our technical staff is to be an integral partner in your product engineering cycle.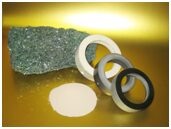 Read our article for more insight on material selection.
To discuss further with our materials experts, please contact us